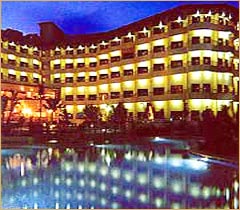 Star Category
****
Address
Swiss Garden Resort Kuantan
Mukim Sungai Karang
Balok Beach, Beserah
Kuantan, Pahang, Malaysia

Location
The resort is accessible by road from Kuala Lumpur to Kuantan via the Karak Highway that connects directly to the new East Coast Expressway, approximately 2½ hours drive.

StayResMalaysia.com provides complete information on Malaysia hotels, ranging from comfortable cheap hotels in Malaysia to luxurious five star hotels in Malaysia. Here you can get complete information on services and facilities offered by the Malaysia hotels, the best deal on discount Malaysia hotels, online hotel reservations service, and a easy to use hotel booking facility. Please check online availability and special discount on Swiss Garden Resort Kuantan.
Swiss-Garden Resort & Spa, Kuantan, an international class resort with 304 rooms, sits on an endless stretch of pristine, sandy beach. Its strategic location provides an ideal getaway venue for holidaymakers and business travelers alike. Be-fitting an international class resort, Swiss-Garden Resort & Spa, Kuantan ensures that good service and comfortable accommodation for all travelers are maintained.